(updated October 10, 2014)
Barclaycard Arrival Plus World MasterCard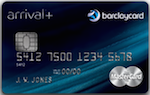 The Barclaycard Arrival Plus World MasterCard effectively generates a 2.2% cash return on all purchases, and offers a 40,000-point signup bonus if you spend $3,000 within the 90 days.  The card has an $89 annual fee — which is waived for the first year — and there is no foreign transaction fee.  For more on this card, click here.
Chase Sapphire Preferred Card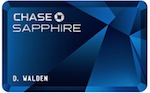 The Chase Sapphire Preferred Card is widely considered to be the strongest card for earning flexible points that can be converted to airline miles, hotel points, and Amtrak points.  It earns two points per dollar on all travel and dining expenses and one point per dollar on all other purchases, and its "Ultimate Rewards" points are among the most flexible and valuable points out there – instantly transferable, on a one-to-one basis, to several airlines, hotel chains, and even Amtrak.  For more on this card, click here.
Citi Double Cash Card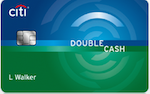 The Citi Double Cash Card offers an impressive 2% cash back on all purchases, with no limits (the 2% is quirkily marketed as 1% cash back on the purchase and another 1% cash back when the purchase is paid for).  There's no sign-up bonus, but there's also no annual fee!  Plus, it's a Mastercard, so it's accepted a bit more broadly than the Fidelity Investment Awards American Express Card (see below).
TD Easy Rewards Visa Credit Card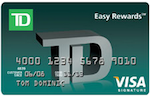 For the first six billing statements, the TD Easy Rewards card offers 5 "easy rewards" points (which can be converted into cash or a statement credit at a rate of 1 cent per point) for each dollar spent on dining, groceries, and gas purchases, as well as cable, phone, and utility bills.  The card has no annual fee, and TD throws in a $100 bonus for spending a mere $500 within 90 days of opening your account.
Fidelity Investment Awards American Express Card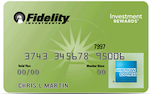 The Fidelity Investment Awards American Express Card is a true 2% cash back card, earned in $50 increments for every $2,500 spent.  The drawback to this card is that, to earn the 2% rate, the cardholder must open an "eligible Fidelity account" and authorize the rebate to be direct-deposited into that account.  Most Fidelity accounts are "eligible," however, so opening one is not a huge obstacle.  For more on this card, click here.
Blue Cash Preferred Card from American Express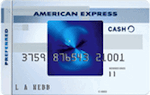 The hallmark of the Blue Cash Preferred® Card from American Express is its whopping 6% cash rebate on all supermarket purchases (for up to $6,000 per year), which, standing alone, is a powerful incentive for people who eat.  It also happens to yield an impressive 3% cash back at gas stations and department stores (with no spend limit).  All other purchases earn a 1% cash rebate, so I use this card for its bonus categories and use other cards for purchases in non-bonused categories.  For more on this card, click here.
Chase Freedom Card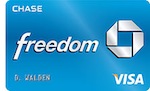 The Chase Freedom card is a no-annual-fee credit card that yields 5% cash back on a rotating list of three categories each quarter, and 1% cash back on all other purchases.  If used in combination with a a Chase Ultimate Rewards credit card, each cent of cash rewards generated by the Freedom card can be converted to a much more valuable Ultimate Rewards point, which gives the Freedom card more potential than its rotating-bonus-category rivals.  For more on this card, click here.