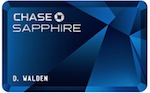 I'd hate to live in a world in which I was limited to just one credit card, but if I did, I'd probably choose the Chase Sapphire Preferred Card.  It earns two points per dollar on all travel and dining expenses and one point per dollar on all other purchases, and it's not-so-humbly-named points "Ultimate Rewards" points are, to their credit, among the most flexible and valuable points out there – instantly transferable, on a one-to-one basis, to several airlines, hotel chains, and even Amtrak.
Note:  The "Preferred" designation isn't solely puffery – it also distinguishes this card from a separate non-"Preferred" version that is true to its name in its inferiority.  So don't confuse the two.
Signup Bonus and Fees
The best current signup bonus offer on the Sapphire Preferred card is 40,000 Ultimate Rewards points after spending $3,000 within three months of receiving the card.  There is no foreign transaction fee, which is a huge benefit for international travelers.  The annual fee of $95 is waived for the first year.
The Rewards
The Sapphire Preferred card is one of several Chase cards that is part of the Ultimate Rewards ("UR") program.  It earns 2 UR points for each dollar spent on travel and dining purchases, and one UR point on all other purchases.  One quirky aspect of the Sapphire Preferred card is that, each year, you earn a 7% "dividend" on all points earned over the course of that year (excluding the signup bonus, unfortunately), which means that you're effectively earning 2.14 points per dollar on travel and dining and 1.07 points per dollar on all other purchases.  "Travel" and "dining" are defined quite broadly, with travel including everyday expenses like taxis, busses, tolls and trains, and dining including bars, coffee shops, and pretty much anywhere that serves food or drinks (serves as opposed to sells, as grocery stores and convenient stores do not fall under the "dining" category).
UR points are very, very useful.  First of all, UR points can be used to book flights, hotels, rental cars, and cruises through Chase's web portal at a fixed rate of 1.25 cents per point.  I do not recommend redeeming your points in this manner because you can extract more value from each point by transferring your points to one of the UR transfer partners (more on this below), but it's good to keep this possibility in mind because it provides a floor on the value of a UR point.  That is, assuming you do any amount of traveling, UR points can be conservatively valued at 1.25 cents per point, which means that you're effectively receiving 2.5% back on every dollar spent on travel and dining expenses.
But let's move on to the better option: instantly transferring UR points (at a one-to-one ratio) to United Airlines, British Airways, Korean Air, Southwest, Hyatt, Marriott, Priority Club, and Amtrak.  I will discuss the ins and outs of each of these programs in future posts, but there are three very important points about these transfer partners that I'd like to highlight here.
First, the selection of airline partners is actually much better than it appears at first glance because United, British Airways, and Korean Air cover the three major airline alliances: Star Alliance, Oneworld, and Skyteam, respectively.   Each frequent flyer program has its own quirks, but since airlines typically make their award space available to all of their alliance partners, you'll generally be able to use your UR points on any airline within the three major alliances.  For example, if you're interested in an American Airlines flight, you can book an award ticket on that flight (if award space is available) by transferring your UR points to British Airways (American's Oneworld partner), and using your British Airways Avios to secure an award ticket on the American Airlines flight.  By the same token, you can access award space on Delta flights through Korean Air.
Note:  The Sapphire Preferred card renders many airline-specific credit cards obsolete by earning 2 points per dollar on all travel expenses – not just flights on the particular airline affiliated with the card issuer – which can then be used to access award space on all three major airline alliances.
Second,  Hyatt's loyalty program ("Gold Passport") is very generous, and almost always represents your best bet in terms of hotel redemptions.  The reason is simple: the best and most expensive Hyatt properties top out at a mere 22,000 points, which is about half the amount of points necessary to redeem for top-tier Marriott or Priority Club hotels.  Plus, and this is nothing more than sweeping matter of opinion, I prefer top-tier Hyatt resorts like the Park Hyatt Maldives and the Hyatt Regency Lake Tahoe (both on my shortlist) to the top-tier Marriott and Priority offerings.  That said, although the Marriott and Priority Club programs are decidedly less generous, it's nice to be able to top off your account if you're already close to an award and just need a few hundred points to get you there.
Finally, Amtrak can be a great use for your UR points.  Award tickets in the Northeast Region (which spans from Boston to Washington, DC)  cost 4,000 points each way, and in many instances would otherwise cost well over $100.  So redeeming your points through Amtrak can easily yield upwards of 3 cents per points, which is great.  And again, just keep in mind that you earn 2 points per dollar on travel and dining purchases, so we're talking about upwards of 6 cents of value on each of those dollars.
The Bottom Line
I use the Sapphire Preferred card on almost all of my travel and dining expenditures (the two exceptions are if I'm trying hit a minimum spend requirement for a signup bonus on another card, or earning a temporarily better reward on special promotion, like when travel or dining is one of the rotating 5-point categories on the Chase Freedom card, which, incidentally, can be converted into 5 UR points if you hold both cards).  For non-travel/dining spend, I typically defer to my Amex Starwood Preferred Guest card.