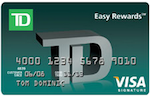 This offer probably isn't getting the attention it deserves.  For the first six billing cycles, the TD Easy Rewards card offers 5 "easy rewards" points (which can be converted into cash or a statement credit at a rate of 1 cent per point) for each dollar spent on dining, groceries, and gas purchases, as well as cable, phone, and utility bills.  There's also a $100 bonus for spending $500 within 90 days of account opening, and there's no annual fee.  Although the card is effectively useless after the initial six billing cycles (1 point per dollar), a six-month bonus period is a long time, and these bonus categories are very useful.  Plus, the grocery category can be leveraged even further by buying gift cards and prepaid debit cards at grocery stores.
Before you pull the trigger, however, it's important to consider whether this offer is worth the opportunity cost of a credit inquiry.  The market is flush with very generous signup bonuses for consumer credit cards — 50,000 AA, Lufthansa, or Southwest miles, 2 free nights at any Hyatt or Hilton hotel in the world, and 40,000 Chase Ultimate Rewards points, just to name a few — so this offer only makes sense if it will end up netting you more value than you could otherwise obtain by applying for a different card.  And when you calculate your expected return from the bonus categories, consider only the marginal benefit of the 5% bonus: you're not profiting 5% in each bonus category if you would otherwise be earning rewards on those purchases, and you should be earning 2% back on all purchases (with one of the 2% cash back cards discussed here).
I spend more money at restaurants (and on Seamless/Grub Hub, which count as "dining") than I'd care to admit, so I applied for the card back in August (and, at that time, the "free money" component of the bonus was $200 instead of $100).  I'm happy to report that the bonuses are working as advertised.  Every single charge that I've placed on the card has credited the full 5%, and redemption for a statement credit is quick and painless.
A few other notes on the offer:  First, it's only available to consumers within TD's "footprint" of the following 16 states: CT, DC, DE, FL, MA, MD, ME, NC, NH, NJ, NY, PA, RI, SC, VA, VT.  Second, the offer ends November 1, so apply by that date if you're interested.  Third, if you're not approved instantly (I wasn't), the text that appears on the screen after your application is submitted will contain a number to call with any questions.  If you call that number, a credit analyst can approve you instantly, assuming there are no major problems with the application (they just wanted me to verify my address).
Finally — and this is getting a bit into the weeds but worth reading if you plan to apply for the card — try to ensure that your first billing cycle isn't cut short.  I applied for the card on August 17th and received the card in the mail on August 25th, but my first billing cycle ended on August 27th, so the first of my six bonused billing cycles lasted a mere 2 days.  I wasn't pleased.   When I called to try to rectify the situation, I was told that it was too late to retract the first statement and that I couldn't extend the life of my future statement cycles because the 27th or 28th of any given month (I forget which) is the last possible date for billing cycles to end.  So what you should do — if my math and logic are correct here, and assuming comparable lag times between applying for the card and the end of the first bill cycle — is apply for the card around October 22nd or so.  That way, you'll receive the card in the beginning of November (roughly ten days later) and can call immediately to move your statement date back to end of November, ensuring a full or almost-full initial bill cycle.
Note: There's also an effectively-identical offer for the "TD Cash Rewards" card.  Theoretically, "easy rewards" points are slightly more flexible than cash — in that they can be redeemed for cash or be used to purchase merchandise through TD's website — but the former redemption option is almost always superior to the latter, so there appears to be no substantive difference between the cards.
What do you think?  Are you going to apply?
No affiliate links were used in this post or anywhere else on this website.