After a long hiatus, Points on the Dollar has returned!  With much more time on my hands these days (more on that later), I'm looking forward to sharing my thoughts on personal finance, travel, and whatever else floats my boat.  And there will be a few significant changes around here, the most important of which is that the site will no longer employ affiliate links within posts to generate revenue.  This matters (to you) for a couple of significant reasons that I'll explain below.
First, by way of background, affiliate links are customized hyperlinks that are offered to certain bloggers (or other online publishers) who are approved to be an advertiser on behalf of a sponsor.  As the concept is applied to credit card marketing, it works like this: when a reader clicks on a blogger's affiliate link and is subsequently approved for a credit card through that link, the blogger receives a commission ranging from somewhere around $50 to well over $200, depending on the card.
Reasonable minds can differ on the degree of moral hazard created by affiliate links, but I think it's safe to assume that the incentives associated with affiliate links influence the objectivity of the "approved" bloggers who possess them — though some bloggers do a better job of maintaining their objectivity (e.g., Frequent Miler, Hack My Trip) than others (e.g., The Points Guy, Million Mile Secrets).  (And for what it's worth, I like to think that I skewed heavily towards the Frequent Miler side of the spectrum when I used affiliate links, though I'm not naive enough to believe that the links had no influence whatsoever at the margins.) 
Sadly, even the venerable "View from the Wing" blog has recently been co-opted by its affiliate sponsors.  By way of example, just this past week, Chase increased the signup bonus on one of its business credit cards, the Ink Plus card, from 50,000 points to 70,000 points.  Gary, the blog's author, promptly LOST. HIS. MIND.  I kid you not, this is the hysteria that ensued:
9/29 — ACT QUICKLY: Big Limited-Time Increase in Signup Bonus for Chase Ink Plus Card.
9/30 — Here are the Ten Best Ways to Take Advantage of a Big Chase Offer
10/1 — Can You Get ANOTHER Chase Ink Offer for the 70,000 Point Bonus?
10/2 — The 5 Best Credit Cards Overall.  (Ink Plus card earns top honors and, in a stroke of what can only be interpreted as subconscious self-awareness, Gary notes that "It's interesting to me that I believe the very best cards come from Chase, with the rest of the list filled out by American Express products.")
10/3 — 70,000 Point Bonus for Chase Ink Plus Ending Soon, Act Quickly (This post even includes a tutorial on how to successfully apply for the card even if one doesn't in fact own or operate a business — as required for a business card).
10/6 — $875 In Your Pocket Is The Worst Case Scenario For The 70,000 Points You Can Get From Chase Ink Plus
10/7 — With Likely Just 3 Days Left, Here's Why The Ink 70,000 Point Offer Is Valuable To You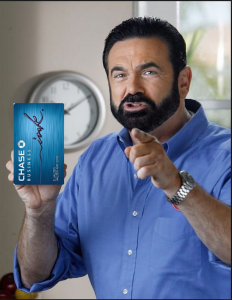 And all of this comes on the heels of a 60,000-point offer for the same card over the summer, which was covered with even more redundancy than the 70,000-point offer; I just don't have the energy to chronicle the timeline of those posts.  If memory serves, there must've been two or three dozen of them.
Look, I'm well-aware of the less cynical view of these posts: that Gary is either suffering from amnesia himself or generously catering to that oft-underserved segment of the population.  But I think the much more plausible explanation for the treatment of this offer as the single greatest financial opportunity in the history of the credit markets — rather than a mere 10,000 points above the last promotional offer, and with the $95 fee not waived for the first year — is that Gary's objectivity is influenced, understandably, by the financial incentives associated with his affiliate relationships.
Another problem with affiliate links is that blogs that use them are subjected to constant scrutiny and oversight by their affiliate sponsors, which — as I know from experience — will write threatening emails demanding corrective action if a blogger so much as neglects to include a registration symbol next to a registered trademark.  More importantly, affiliate sponsors regularly monitor the content of their advertisers' posts, and can (and will) "deactivate" their advertisers' prized affiliate links if their products are criticized in any meaningful way.  This constant threat of deactivation, coupled with minimum quotas for "conversions" that many sponsors impose upon their affiliates, significantly restricts and sanitizes the opinions that bloggers who earn revenue through affiliate links are willing to publish.
This is all a typically-long-winded way of saying that I'm very excited about unshackling this blog from affiliate links and their corresponding restrictions.  (I'm decidedly less excited to make pennies per day from the Google ads in the sidebars, but that's the tradeoff.).  And I've been amassing a long list of what I think will be very informative and entertaining posts, so please check back regularly.  And if you like, follow, share, comment, bookmark, or do any other other social-media-oriented verbs to the site, I'll be forever grateful.