You've probably heard of the "MagsforMiles" program, or at least received one of their letters imploring you to buy magazine subscriptions with your frequent flyer miles.  The program partners with most domestic airlines — Alaska, American, Delta, Frontier, Hawaiian, Spirit, United, and US Airways — and sends it sales pitch to anyone who's enrolled in one of those airlines' loyalty programs.

You know the pitch.  It starts with a warning that your miles are about to expire, and then notes that you can avoid mileage expiration by purchasing magazine subscriptions with your miles.
But here's the thing – sometimes your miles aren't about to expire.  In these cases, the MagsforMiles letter will strongly – and I mean strongly – suggest that your miles are about to expire.  Here's a great example that Eleni received last week, and keep in mind that her MileagePlus account is very active and her miles aren't actually set to expire until November 30, 2014.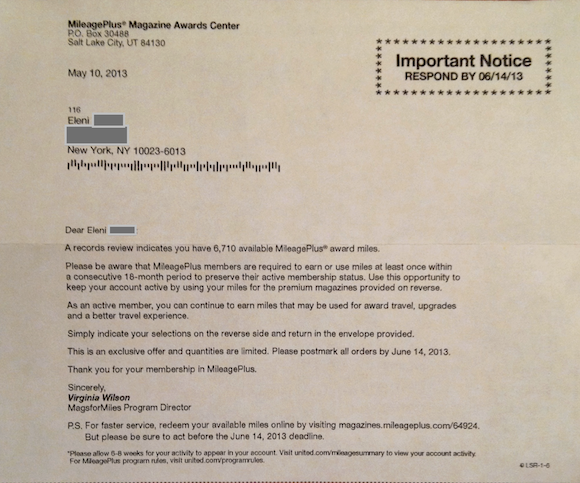 The top right-hand corner of the letter wastes no time in communicating the gravity of the situation: "Important Notice / Respond by 6/14/13."  This must be some sort of deadline.
The first line of the letter reinforces its serious nature: "A records review indicates you have 6,710 available MileagePlus award miles."  They've reviewed my records – this sounds important.
Next, the heavy-handed threat:  "Please be aware the MileagePlus members are required to earn or use miles at least once within a consecutive 18-month period to preserve their active membership status."  How would this warning make any sense if my miles weren't going to expire imminently?
And finally the chance for redemption:  "Use this opportunity to keep your account active by using your miles for the premium magazines provided on reverse."  Sold.  I don't even care if your magazines are premium.  I'll take'em.
And just for good measure, in the P.S. line: "please be sure to act before the June 14, 2013 deadline."
* * * *
I can't help but respect the devious bastard who crafted this language and figured out how to tip-toe so elegantly along the fine line between incredibly-misleading and patently-false.  The letter never actually states that your miles will expire if you don't "act" before the completely artificial "deadline," and yet it communicates the message so clearly!
In any event, don't fall for this ploy.  You should absolutely be mindful of mileage expiration, and the MilesforMags program can be a good way to prevent expiration from occuring, but don't buy magazines in a panic on the assumption that the purported "deadlines" in the MilesforMags letters are, in fact, deadlines!