Being the nerd that I am, I immediately set up ApplePay on my iPhone and ran across the street to Duane Reade to test it out.  Here are some initial thoughts about the process of setting up and using ApplePay, as well as a few miscellaneous observations:
Setup:  Setting up ApplePay was slightly less intuitive that I expected, so I'll briefly outline what you need to do.  First, you have to download iOS 8.1.  When your phone reboots, go into Settings, scroll down to the fourth cluster of prompts, and select "Passbook and Apple Pay."  You'll then see an option to add credit or debit cards.  After you load a few cards, try to figure out where you buried the heretofore useless "Passbook" app and, if you plan to use ApplePay regularly, move it to some better real estate.
Use:  Before I approached the register, I opened the Passbook application and selected the card I wanted to use — the Chase Freedom card (I still get an extra 10 point per transaction through the now-defunct but still semi-operational Chase Exclusive program, so the Freedom card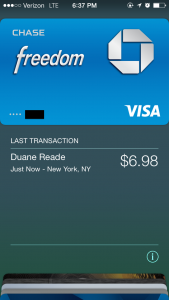 is great for small, sub-$10 transactions).  Once the clerk scanned my items, I held my phone near the credit card console and prayed that something would just happen so that I wouldn't look like a crazy person in front of the long line of people behind me.  Sure enough, the phone recognized the NFC signal from the console and prompted me to either place my finger on the phone's fingerprint scanner or enter my passcode.  I pressed my finger to the scanner and, sure enough, the transaction processed immediately and a record of the transaction appeared instantly below the image of my card.  Very cool.
Unable to load business cards:  One unexpected kink in the setup process was that I was unable to add either of the two business credit cards I own: the Chase Ink Bold card and a legacy card called the Citi Professional Cash card (no longer available).  Chase and Citi are both ApplePay partners, but it seems that only personal cards are compatible with the system, at least at the time being.
Unable to load Fidelity Investment Awards American Express card:  Unfortunately, I was also unable to load a mainstay of my wallet — the Fidelity Investment Awards American Express card (2% cash back on all purchases).  This is surprising because the card is issued by FIA Card Services, which is a subsidiary of Bank of America, and Bank of America is also one of the ApplePay partners.  Perhaps only Bank of America-branded cards are compatible with ApplePay at the moment, but I'm hoping that changes soon.
No Barclaycard compatibility, yet:  Barclaycard is the one issuer that I'd really like to see added to the ranks of ApplePay.  I wonder what they're holding out for. 
In retrospect, that probably wasn't worth a bullet point.